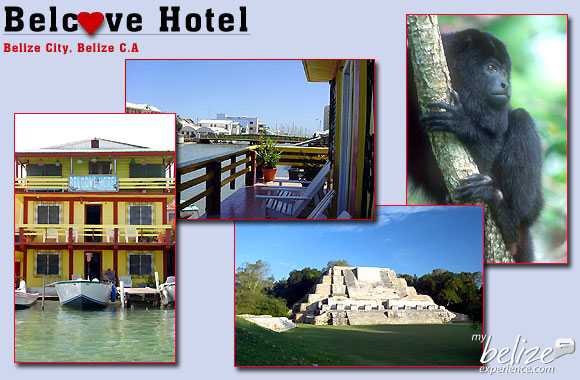 In the heart of historic Belize City
Belcove Hotel, located in the very center of downtown Belize City, with a view of the Hallover Creek and the famous Swing Bridge, welcomes you to its friendly, comfortable and cozy atmosphere. This family owned and operated business, offers you the very best in personal comfort that makes each of our guests feel like a V.I.P indeed. Our clean, comfortable rooms offer you the choice of a budget or deluxe rate accommodation of your choice in single, double or triple occupancy.
It's convenient location provides easy accessibility to the bus terminal, water taxi and various historic landmarks as well as important tourist destinations across the country whether you choose to explore Belize by land, air or sea. At just 30 minute drive from the international airport we furnish airport pick-ups and drop offs upon request at an additional extra cost. We also provide our guests with connections to historic destinations like Tikal archeological site in Guatemala or other international connections. So whether you are passing through the city or planning a vacation don't hesitate and make Belcove Hotel your choice.


TRIPLE DELUXE
This comfortable room offers a double and a single bed with air-condition, cable television with world wide programming and a private shower and bath ideal for triple occupancy.
SINGLE/ DOUBLE DELUXE
These comfy rooms offer a choice of a double bed or two single beds per room with air condition, cable television with worldwide programming and a private shower and bath ideal for single or double occupancy.
SINGLE/DOUBLE BUDGET
These rooms offer a double bed or two single beds with the choice of a private or shared bath with fans for single or double occupancy.
| | | | |
| --- | --- | --- | --- |
| Room | Single | Double | Triple |
| Budget (Shared Bath) | $27.25 | $32.70 | - |
| Budget (Private Bath) | $34.33 | $40.33 | - |
| Deluxe (Double or 2 Single Beds) | $46.33 | $46.33 | - |
| Deluxe (Double and Single Bed) | $51.78 | $51.78 | $57.23 |
Booking Details
All rates in US dollars, tax included.
Rates are subject to change without notice.
Additional Person in Budget Room, $5.50US Plus 9% Tax
Additional Person in Budget Room, $6.00US Plus 9% Tax
Airport Pickup at $20.00US
Deposit / Cancellation Policy
Cancellations must be made 4 days prior to arrival for individual bookings. Should reservations be cancelled within these 96 hours, the Belcove Hotel reserves the right to charge a penalty fee of one night room and tax at the room rate the reservation was made.

PLEASE NOTE, THAT ALL REFUNDS WILL BE CHARGED A 10% BANK FEE.
Belcove Hotel is not responsible for cancellations due to weather, airline, legal or medical problems, or other disasters, but will provide a credit for the future reservations.
The following are some of the activities you can choose from while visiting in Belize with Belcove Inland Tours. For additional information please contact us.
Archeological Sites
Experience the magnificent Mundo Maya adventure at any of these sites. Altun-Ha, Xunantunich, Lamanai, Cahal Pech, Caracol
Gran's Farm
"Earth's closest spot to paradise" Enjoy the intimate, family atmosphere at Gran's Farm, where visitors have a choice of quiet relaxation or energizing activities, with the opportunity to taste the exotic fruits and produce from the farm.
Baboon Sanctuary
Home of the Black Howler Monkey
Belize Zoo
Watch these tropical animals in their natural habitat.
Old Belize Museum
Travel back in time to learn the true history of Belize.
Crooked Tree-Wildlife Sanctuary
Excellent choice to view species of birds and the Famous Jabiru bird.
Cave Tubing
Great way for exploring caves in Belize.
Mountain Pine Ridge
Home of the famous Thousand Foot Waterfalls, green pine forest, scenic rivers.
Tikal in Guatemala
Why not run across the border and view this magnificent Maya Temple, a few hours by land or 45 minutes by air.
Places to Visit in Belize City
St. John's Cathedral
Swing Bridge
House of Culture
Handicraft Center
Maritime Museum
Tourism Village
Court House
Belize Museum
Bliss Institute
Special Offers
In the heart of historic Belize City

Belize Accommodations Belize District Hotels Belize Hotels & Resorts